Summer has finally arrived, bringing with it a refreshing selection of slushees, breezy beach dresses, and an array of beautiful blooms for those with green thumbs. After weeks of tender care, it's a magical experience to see buds unfurl and soak up the warm sun.

The balmy yet lively atmosph[...]
Add To Cart
Add 8 Balloons for $42.95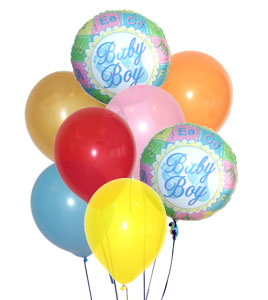 Summer has finally arrived, bringing with it a refreshing selection of slushees, breezy beach dresses, and an array of beautiful blooms for those with green thumbs. After weeks of tender care, it's a magical experience to see buds unfurl and soak up the warm sun.

The balmy yet lively atmosph[...]
Summer has finally arrived, bringing with it a refreshing selection of slushees, breezy beach dresses, and an array of beautiful blooms for those with green thumbs. After weeks of tender care, it's a magical experience to see buds unfurl and soak up the warm sun.

The balmy yet lively atmosph[...]
Summer has finally arrived, bringing with it a refreshing selection of slushees, breezy beach dresses, and an array of beautiful blooms for those with green thumbs. After weeks of tender care, it's a magical experience to see buds unfurl and soak up the warm sun.

The balmy yet lively atmosphere of summer seems to inspire everyone to fall in love with the dewy petals and feel an irresistible urge to gift each other with sunflowers, daisies, and bright chrysanthemums.

Citrus Kissed is a stunning bouquet that captures the essence of summer with its vibrant colors and nature's finest picks. This beautiful arrangement features fresh flowers in shades of red, orange, and yellow, including bright chrysanthemums, sunny yellow carnations, and green accents that complete the colorful spectrum.

Take a moment to admire the sheer beauty of this timeless bouquet, and gift it to your precious mother, sister, or that one special friend who has always been there for you. As the spirit of summer beckons us to step outside and appreciate nature's unfolding beauty, Citrus Kissed embodies this sentiment perfectly.

It reflects the ever-so-beautiful vagaries of nature hidden in the blooming of fresh, dewy petals knotted to perfection. Share this stunning bouquet with everyone who holds a special place in your heart.

You can find Citrus Kissed and all our other flowers at local florist shops across the country, and you can even order them for same-day delivery for last-minute gifts!
Item No. T157-1A
Price: $79.95